The Recall Abduction VR app teleports you to the world of The Recall, staring Wesley Snipes, and welcomes you into the exclusive media lounge where you can immerse yourself in The Recall VR Abduction, enjoy "The Making of The Recall" in a giant home theater screen, and experience the trailers in 360-degrees, Barco Escape, and Standard 2D formats. The app contains the feature film, trailers in multiple formats, cast stills and extra exclusive behind the scenes video content in 2D format. Capable of streaming or downloading multi-format videos, this is also the first app to enable monetization of video content within the free app.
"Making a film is one challenge, but how the movie is delivered and the new technologies we can offer to make the experience more rewarding is why we are in this business." said Kevin DeWalt, CEO of Minds Eye Entertainment. "With this new technology, we look forward to deepening our audience's connections to our stories."
This application opens up a whole new way of interacting with long form cinematic content. Instead of the filmmaker providing the one and only lens, you become the director. The world is still the director's to create but you, the user, are the lens. This experience is almost the equivalent of an R.L. Stein Choose Your Own Adventure book in movie format.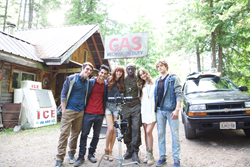 There are a couple of important factors that will contribute to the growth of the VR App space even as it loses ground to AR. One is increasing the quality of the visuals. Movie screens at normal HD work because they're far away and we are used to them. With the advent of 4k, 8k and whatever come's next, we'll be stepping ever closer to the human eye not being able to distinguish VR from reality. That is the point VR needs to get to in order to achieve 'mind-blowing' status.
Another is the ability to use A.I. to create dynamic, realistic and non-scripted interactions with various objects/characters. For each interaction that is engaging and realistic, someone has to script it and a developer has to code it. This means that to create a fully realistic and interactive environment, you've got to have a mini Blizzard development team. With some clever AI implementations, you could lower the effort of scripting and the generation and animation of characters.
Interactive movies that live within VR Apps will be a format to watch. We'll be keeping an eye out for you so sign up for our newsletter in the sidebar to keep up to date with the latest news on VR/AR.