The world of augmented and virtual reality never sleeps—but this July it has been particularly busy. A long awaited product has passed the last hurdle before being approved for shipping to consumer. A new virtual reality game concept will have your heart racing—literally—thanks to artificial intelligence. The landscape of AR games will be richer and more interesting soon after a significant takeover. And social media is taking a leaf out of the book of AR shopping apps with a new feature coming to Facebook.
And this short introduction covers just a part of all the significant moves in the world of augmented and virtual reality. So, without further ado, let's go in depth with the key AR and VR news and events for July 2018:
Magic Leap One Passes FCC Certification, becomes Officially Ready for Large Scale Distribution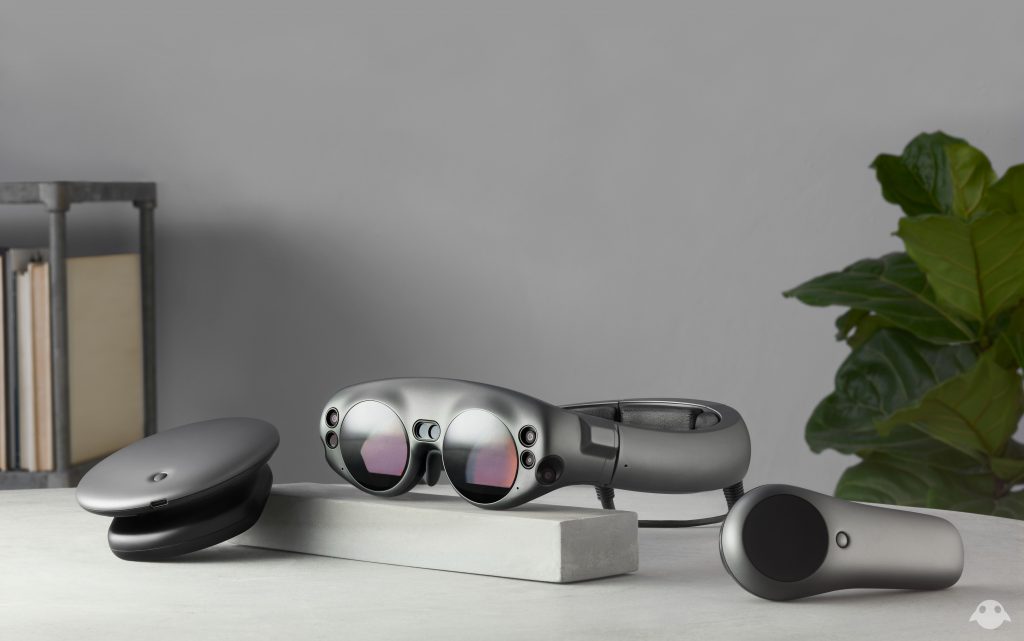 Magic Leap One is a sort of unicorn in the world of AR devices: we heard a lot about it, but we haven't managed to see it in stores so far. However, we are about to put our doubts to rest, because the innovative tetherless augmented reality headset developed by Magic Leap has officially passed the FCC certification tests.
As you may know, the FCC certification is mandatory for any brand new consumer electronics device. Once this hurdle is passed, the product can be marketed and shipped to clients.
According to the photos and documentation released by FCC, Magic Leap One features Bluetooth and Wi-Fi connectivity, but not a cellular radio. From the photos taken mugshot style by FCC, there seems to be a cable connection between the headset and the hip-mounted computing unit which cannot be removed. Also, the cooling vents of the computing unit are located on its underside.
A few days before the official announcement from FCC, AT&T announced in a press release that it would be the exclusive distributor of all Magic Leap products in the territory of the US.
One of the Largest Water Parks in Europe Introduces Virtual Reality Experiences
The Galaxy Erding water park managed by Therme Erding is one of the largest such entertainment facilities in Germany—and even in all of Europe. Starting in July, visitors to Galaxy Erding will experience a lot more than sliding down the water slide.
VRSlide is the name of the new virtual experience that the company managing the water park decided to offer in order to boost its sales. Equipped with water resistant VR headset and a Samsung Galaxy S8 smartphone, the visitors will experience an exciting adventure: navigating across the Solar System, in a glacial winter landscape or though futuristic sceneries coming straight from action adventure video games.
The virtual reality experience was created in collaboration with US based startup Ballast VR. The water resistant headset is very comfortable—it weighs only 393.3 grams (approximately 0.8 pounds) and features NFC, wireless charging and a pass-through camera.
Here is a teaser presentation of the new attraction at Galaxy Erding water park:
Augmented Reality Ads Come to Facebook
Facebook has announced during its last annual event that it will focus on introducing augmented reality at a large scale across its digital properties. It started with AR filters for Instagram and AR emojis for Messenger. Now augmented reality ads are taking over the main social media platform.
The AR ads for Facebook will create stronger relationships between brands and consumers, by allowing people to experience virtual try-on for various products, just like in dedicated AR shopping apps. The general design of the app will be similar to regular Facebook ads showed within the user's News Feed.
It will include a message "Tap to try on" on the product photo. Once a user decides to tap on the message, Facebook will access the frontal camera of the mobile phone and let the user see how they would look wearing the respective product. Some of the first companies that tried the new augmented reality Facebook ads were Michael Kors and Sephora.
New Horror Virtual Reality Game Uses AI to Track Players' Heartbeats
Do you know those moments of calm in the middle of a horror movie or game, when you can relax and calm down a bit? Those moments will become history if you decide to try the new virtual reality game Bring To Light developed by Red Meat Games.
The game makes use of artificial intelligence to track the players' heartbeat. As soon as it detects that the pace is slowing down, meaning that the player has left behind the adrenalin rush, the AI unit modifies the game scenario, bringing forth new thrills and dangers to be overcome.
The storyline of Bring To Light places the player as the only survivor of a terrible railway accident. The player must walk through a network of abandoned subway tunnels and find an exit to the surface. At each turn, they have to solve puzzles and survive the encounter with frightening evil creatures and demonic spirits which populate the underground tunnels.
The owner of Red Meat Games, Keith Mase, explained how the AI springs into action on reading the player's heartbeat level for CBC News: "When it's low, that's when we know we can…dial up the creep factor and have jump scares and have things that crawl and slither, or doors shaking when you walk past them. It will actually reflect in your heart rate very quickly. But if the heart is pumping too hard, the terror gets dialed down again. We're nice people. We're not going to let you have a heart attack."
The game works for a variety of VR headsets such as HTC VIVE and Oculus Rift, as well as for PC. You can watch a teaser of Bring To Light virtual reality game below:
Niantic Acquires Seismic Games, Prepares New AR Games and Platform
Niantic gave us the Pokémon Go augmented reality game phenomenon. Seismic Games is the creative force behind the Google Daydream game Blade Runner: Revelations. And now Seismic Games is a part of Niantic, following an acquisition transaction.
The move is in line with Niantic's upcoming plans. In Harry Potter: Wizards Unite augmented reality game and the AR Real World Platform, machine learning and computer vision will solve the issue of creating realistic AR experiences for less powerful mobile phones.
Speaking of the acquiring of Seismic Games, Niantic explained:
"Seismic will continue to see through its existing slate of titles in development as it transitions into building all new AR experiences with Niantic. We recently gave a peek under the hood of the Niantic Real World Platform, and we see the addition of Seismic Games as a significant accelerant for realizing our vision of an operating system that bridges the digital and the physical worlds."