With Google's introduction of ARCore to mobile devices in August last year, the consumer market for augmented reality moves yet again a step closer into the so-common-it-becomes-mundane, everyday tech we wanted it to be.
But putting your ARCore smartphone aside, we already have a good number of options we can choose from, for a more firsthand immersive experience. Dedicated AR glasses and headsets are yet to be the norm, but as of 2018, there is already a lot to choose from.
Level One – "The Prism"
This type of AR headset or device provides the minimum amount of integration with your visual environment. In most cases, they're actually just tiny heads-up displays mounted on glasses, so to call them "AR glasses" can be a bit of a stretch. However, these minimalist wearables are typically still designed to provide relevant information with the real world, thus the definition rightly remains.
After the Explorer Edition went out just a year after the pioneering AR glasses' introduction, Google's subsidiary, X company, came back to unveil a more optimized version. Enterprise Edition gives many enhanced perks, including better Wi-Fi signal reception. But the most important perhaps is its more robust security and access authentication features. Still not the fancy AR wearable it wants to be, but at least it helps eliminate redundancy on certain reference-intensive tasks. It should be noted that the price listed above is the "standard". Per-unit cost can vary greatly depending on the established deal.
These sports-themed smart glasses are designed to provide various specs and stats needed by athletes, such as distance, speed, or acceleration. However, they can also provide additional navigation features like GPS, lap tracking, and odometer related measurements. All these pieces of info are packed into a visual orientation that is usually size and transparency-adjustable, or can be easily turned off in a hitch.
These glasses still function pretty much like Google Glass, but with larger visuals aided by the no-longer-subtle unit mounted on the eyewear. They are marketed as full, complete products, and as productivity enhancement tools. Typically having a higher base price, they are usually recommended only when an available feature would be directly helpful for your professional task (e.g. electricians, chemists, warehouse maintenance, etc.)
It should be pointed out that that there many other products that fall under the category of the ones listed here, such as for example Recon Jet and Toshiba DynaEdge. Also, keep in mind that advertisements for these AR glasses are usually blown way out of realistic proportions. Expect smaller view sizes, a bit fewer options, and less access accuracy when dealing with some of the more ambitious models in this category.
Level Two – "The VISOR"
More than just peripheral vision information assistants, these types of smart wearables are built to provide the next level of immersion: by throwing more interactive options. As a result, these products are often marketed more strongly as AR glasses than our previous list, though still not as amazing as the true endgame.
Vuzix Blade ($1,800, eventually $1,000)
Introduced at CES 2018 earlier this year, this next evolution of the company's line of AR wearables, strikes a different tune immediately with its natural design. Gone is the gaudy side unit, it now sports the regular glasses look. Blade is the first AR headset ever to provide a dedicated voice-assistant support (not just using its own) in the form of Alexa.
Unfortunately, that is also its only defining feature. It still swipes and taps on the side, and still no objects blending with reality. The integration of Alexa plus external information with the real world however, still allows the Vuzix Blade to move away from the rather boring classification of its predecessors.
DreamWorld DreamGlass ($400)
The DreamGlass is designed with a form factor that is very familiar with all the higher end AR headsets available today. With a relatively good introductory price of $400, 2.5k resolution, 90-degree field of view, it's not surprising to assume that this one might just make it big in the industry.
The catch however, is that it's not actually as advanced as its similarly designed brethren. For one thing, while it does create virtual objects and superimposes them onto a real scene , the objects do not interact with the real world. They are simply placed at open spots, presumably where the headset detects an empty space. As for access and interfacing, all those familiar air gestures are still present, so using it should still feel very familiar.
DAQRI Smart Glasses ($4,995)
Another good contender for high-end visual information assistant wearables, DAQRI Smart Glasses started out as the wonkier DAQRI Smart Helmet. If Atheer was not pricey enough for you, then this one takes the cake as the most expensive one on  this second list.
The justification for such a price? The product is designed purely for on-site industrial purposes. This means the cost is not for consumers, but for business entities that are supposed to be capable making returns on such high investments. Think of Vuzix M100, but with far more information, at least according to its developers. The Smart Glasses creates an interface that is based on all environmental data it acquires. The information can then be appended further by its users, for example adding flow indicators to pipes, or virtual thermometers to key parts of any machine or construction point.
Level Three – "The Augma"
This is augmented reality in its (attempted) purest form, the actual combination of both real and virtual spaces together. There is a reason why many of these products are now marketed as "mixed reality" headsets, in order to differentiate them from everything that has been released until now. These kinds of AR glasses and headsets are usually developed with their own operating systems, and have six degrees of motion freedom so as to optimize its generated interfaces and objects.
Do take note that none of these are officially available in their consumer versions just yet. The higher prices reflect developer kit version costs.
North Star Headset (around $100)
Leap Motion's Project North Star takes special mention in this list due to the concept of its immersion value and interaction with your hands of its previewed operating system. Unlike most items in this list, this is an open source project, and a DIY device. Basically, you download the blueprints online, and build it yourself (or have another company produce it for you) using off-shelf components.
If proven to be as fantastic as they look, the North Star glasses would actually have the capability to change the game of AR forever. We have already discussed the finer points of this argument in a previous article, but it basically boils down to its development availability and ultra-cheap price.
Definitely something worth watching out for in the future.
Microsoft HoloLens ($3,000 Development Edition, $5,000 Commercial Suite)
This is the main product that carried on the buzz of AR after Google Glass. Microsoft HoloLens may not be the very first mixed reality headset, but it definitely established the standard. Interfaces that are custom built to the current environment. Objects that interact accurately with walls, tables, and other real world physical barriers. Sound effects that properly simulate the presence of the virtual objects. Finally, hand gestures that allow accurate access to all of these. Everything set and "calibrated" by HoloLens.
Just as popular as the device itself, is its limited 50-degree field of vision (FoV), which kind of reduces the overall immersion factor of the headset. Still, there's nothing much to explain here, and everything else just rests on its operating system and hardware specifications.
Meta 2 ($1,995)
The development history of Meta goes way back to 2012, about the time when the first Google Glass came to be. It has since then upgraded to many iterations, until we arrived at Meta 2.
Meta 2, much like HoloLens, is a fully dedicated AR headset that is capable of generating images which users could interact directly via gestures. The problem with Meta 2 is that, unlike HoloLens, there is no single demo or review that specifically tackles the subject of physical barrier interactivity. Most demos typically only show floating objects that are positioned accordingly via the headset's calibrated adjustments.
Then there is also the issue of responsiveness. Most reviewers of Meta 2 have complained that the device is just not responsive enough when they try to interact with the objects. And the fact that it has to be tethered to a PC and not wireless like other high-end AR headsets.
Still, at 90-degrees, Meta 2 has a significantly bigger FoV than HoloLens, which makes up for its immersive shortcomings.
ODG R9 ($1,999 )
The ODG R9 headset may look like a rather an unimpressive, thicker version of Vuzix Blade, but it actually packs a really heavy punch in the realm of AR. For one thing, outside its familiar 45 and 50-degree FoV it may perhaps be the best headset in terms of positional tracking out of all available models.
R9 uses the real world physical barriers as walls. But, the headset could even simulate light on all respective surfaces. This allows virtual objects to roll around these barriers and reflect the image as if they were actually there. This is even more impressive when you consider that it can also detect those barriers as they move, such as large polygonal objects (like boxes or cases) within the user's field of vision.
This gives a huge potential to the immersion factor of the headset, one that is definitely something to look out for with education and entertainment applications in mind.
Magic Leap One Creator Edition ($2295)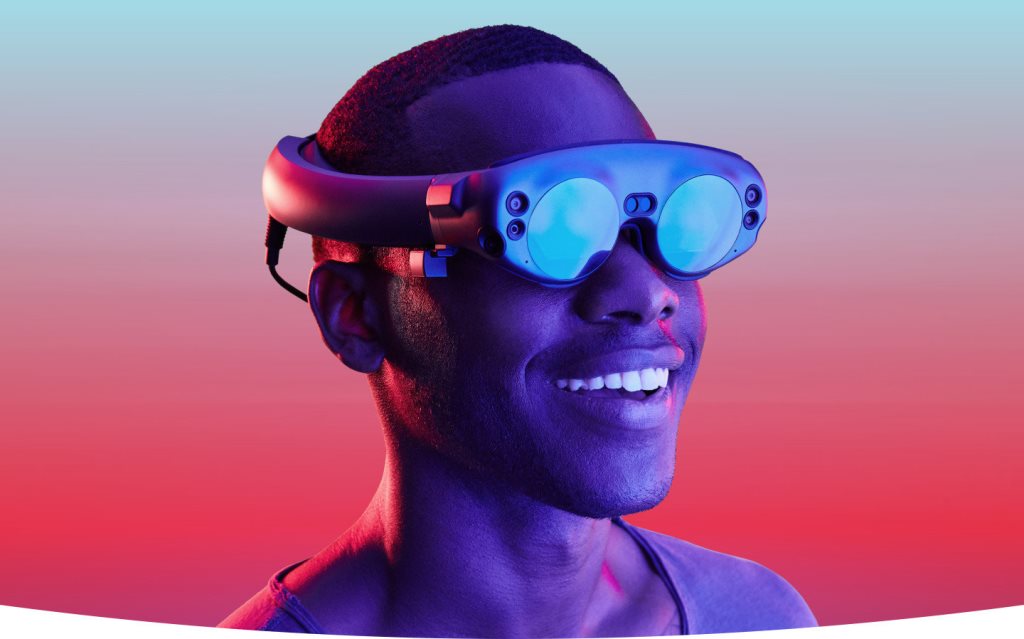 Lastly, the most ambitious of all may perhaps be Magic Leap's very secretive AR glasses. This particular model was in development for over eight years under very tight security measures. The company during those years gave trickles and glimpses of what it could theoretically do.
Think of Project North Star's demo videos, and turn it up to eleven. Immersive environments that seem like they blend into the surroundings. New kinds of optical technologies that will trick the eye into perceiving the objects as real. Even an operating system that seems to predict how interfacing via AR would be if it becomes the norm. The recently released Creator Edition did eventually show all of these breathtaking features, though of course never at the same picture-perfect level as the company had initially advertised.
Other notable mentions include the Sony SmartEyeGlass and Intel Vaunt Glasses. The Sony Smart EyeGlasses are designed much like typical prism display smart glasses, while the Intel Vaunt is pitched as a super duper minimalist "critical-info-only" pair of AR glasses. Sadly though, Sony's AR glasses will most likely be superseded by the recently unveiled "holographic waveguide display", while Intel pulled the plug early on its project due to lack of investment.