According to experts, the VR headsets market will grow exponentially until 2028. And we can already see the signs of a booming market – a lot of newcomers are getting into the VR hardware business, while established players continue to innovate and push the boundaries to performance.
In this article, we will look at the best VR headsets in 2022 from every point of view – from top performance to affordability.
A Few Tips Before Buying a VR Headset
VR hardware is available in two versions: tethered and untethered. A tethered VR headset connects to a PC computer. This must be a powerful computer, with top-level specifications in terms of:
GPU (graphics processing unit);
Video card;
RAM memory;
Storage space.
You will see the minimum requirements for the PC on the product page for each tethered VR headset. Our recommendation is to go further than these minimum specifications, especially if you are interested in highly immersive gaming experiences.
If you cannot afford to upgrade your PC or purchase a new one that meets these requirements, look for a standalone product in our list of the best VR headsets in 2022.
Our Handpicked List of Some of the Best VR Headsets in 2022
We have compared various devices and came up with this list of the best VR headsets in 2022:
1. Meta Quest 2 
Formerly known as Oculus Quest 2, this is a standalone VR headset that offers the best of both worlds: great performance at an affordable price ($299 and $399). What's more, you can also tether it to a PC with an accessory.
Powerful processor;
Very accurate motion tracking;
Crisp images;
High resolution – 1,832 x 1,920 pixels per eye;
90Hz refresh rate for smooth motion.
Another reason why this device is on our list of the best VR headsets in 2022 is its simple, ergonomic design and the fact that it's lightweight (about 500 grams or 17.7 ounces).
2. Valve Index
If money is no object and you wish to experience the most advanced controllers and VR headset, Valve Index is the right choice. Priced at around $1,000 for the full set, this PC-tethered headset offers top performance worth the money:
120Hz refresh rate;
Very precise finger tracking controllers;
6DoF.
But top performance is not the only reason why this premium-priced device makes our list of the best VR headsets in 2022. You can find tons of content for PC on SteamVR. Also, this headset requires less impressive PC specifications compared to other tethered HMDs.
3. HTC VIVE Pro 2
Another premium-priced device, HTC VIVE Pro 2 has its place in this list of the best VR headsets in 2022 thanks to its impressive image resolution: 2,488 x 2,488 pixels per eye. The device also offers up to 120Hz refresh rate and a field of view of up to 120 degrees.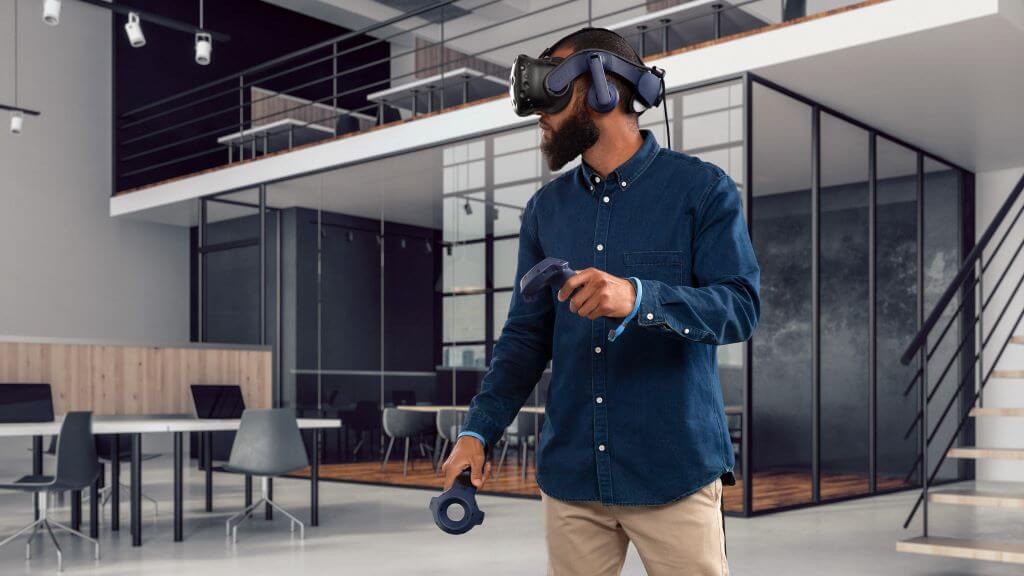 The downside is that for around $800 you only get the headset, without the base, the controllers, or VIVE wireless adapter (which costs $349). The good news is that HTC Vive Pro 2 is compatible with Valve Index controllers (currently one the most advanced on the market).
Finally, if you choose the Viveport Infinity subscription, you have unlimited access to various types of VR content and experiences.
4. Sony PlayStation VR
Affordably priced, Sony PlayStation VR offers great motion control support, highly immersive experiences and can also be used for non-VR games.
The PS VR headset is currently available as a part of a bundle, which starts at around $350, and aside from the headset also includes the PlayStation Camera and PlayStation move controllers apart from other things. We believe that this headset is worthy of attention, especially from gamers.
5. HTC VIVE Cosmos
We conclude our list of the best VR headsets in 2022 with another premium device (around $700) – VIVE Cosmos. This model is the improved replacement of the original Vive HMD. The main specifications are:
1,440 x 1,700 pixels per eye resolution
90Hz refresh rate
6DoF.
Although you need to have a full-size DisplayPort 1.2 port and work around the rather clunky cable (though you can get the VIVE Wireless Adapter for $349), the device compensates for these shortcomings by the huge library of compatible content available on SteamVR and Viveport.