This year saw the 22nd annual DICE Awards, hosted by the Academy of Interactive Arts and Sciences. Finalists were announced earlier this month and the winners were announced last week. All of the titles are exciting and it's an honor just to be nominated. Naturally, we're particularly excited about the VR games that are up for awards this year. After all, this is only the third year that VR titles have had a category at the DICE Awards.
There are a couple of categories specifically for VR games at the DICE Awards. Those are Immersive Reality Game of the Year and Immersive Reality Technical Achievement. However, VR titles can be winners of any of the other categories as well.
Finalists
Immersive Reality Game of the Year comprises scores in a wide range of criteria. These include VR specific criteria like technical achievement. They also include more general criteria like imaging, music, plot, and characters. This year's finalists in the Immersive Reality Game of the Year category were ASTRO BOT Rescue Mission, Beat Saber, Moss, Sprint Vector, and Transference.
ASTRO BOT Rescue Mission and Transference both had some potential advantage because they were developed by pretty big names. SONY developed ASTRO BOT Rescue Mission, and Ubisoft produced Transference. Beat Saber, by Beat Games, has definitely created a greater viral buzz, however. Similarly, Moss, by Polyarc, has become something of a poster-boy for VR games.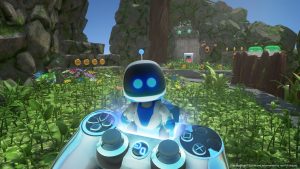 ASTRO BOT Rescue Mission and Beat Saber both appeared again in the Immersive Reality Technical Achievement category. Other finalists for this category included Torn, Tónandi, and Dr. Grordbort's Invaders. Both of those last two titles come from the collaboration with Magic Leap, another big name. Sigur Rós developed Tónandi, and Wetta Workshop worked on Dr. Grordbort's Invaders. Torn is by Aspyre Media, a smaller company — though that doesn't mean it wasn't in the running.
As mentioned above, VR games can win in non-immersive categories. ASTRO BOT Rescue Mission was also up for Family Game of the Year, and Outstanding Technical Achievement. Moss was also up for Outstanding Achievement in Animation, and Outstanding Achievement in Sound Design.
Winners
Beat Saber took Immersive Reality Game of the Year. High-brow fans of VR games may be upset that the game won despite simple game play and lack of plot. However, a game only has to be fun to win and Beat Saber proved to be a blast. We saw a similar situation play out back in 2017 when SUPERHOT VR took the prize. The fairly basic shooter took the prize over more artistic titles.
Immersive Reality Technical Achievement went to Tónandi. This shouldn't be a major surprise as the game was developed by a bigger player than its competitors.
Unfortunately, ASTRO BOT Rescue Mission and Moss lost out to non-VR Games for their other categories.