The ecosystem of digital game development is all about using the latest technologies to attract and engage gamers all over the world. Games, as one of the prime sources of entertainment, could be more prominent by becoming more interactive and immersive. Technologies like VR are being used widely to make games distinctive and entertaining so that both avid and casual gamers can enjoy their favorite games irrespective of time and place.
In fact, with the introduction of virtual reality in the game development industry, the revenue earned has gone up considerably. Market research reports have shown that in 2015 the revenue was $0.66 billion, the next year it increased to $3.6 billion, followed by $5.8 billion and $9.6 billion in 2017 and 2018. By the end of 2019, it had been expected to reach $15.1 billion and in 2020 it has been predicted to achieve $22.9 billion. From these figures, you can assume the vast prospects of VR which can make game development all the more demanding globally.
VR game development has served significant markets throughout the world and still shows high growth possibilities. As virtual reality technology gained prominence, the use of VR devices like the Samsung Gear VR, Oculus VR, and HTC Vive, have also become popular. Equipped with tracking and sensory technologies and hand controllers, the virtual reality devices made playing games highly engaging and reciprocal. To keep pace with the increasing demands of VR games, the number of companies working in this industry also increased manifold. Considering VR's exponential growth rate, experts are of the opinion that the virtual reality gaming market will experience an annual growth rate of 25 to 27%. If things go the right way as predicted, then by 2025 the revenue can go beyond $45 billion.
Some VR Gaming Market Trends Which Determine Its Consistent Growth
The leading producers of VR headsets like Sony, Oculus, Google, HTC, and Samsung, mainly focus on creating cost-effective devices.
The growth of virtual reality content is defined by innovative technologies of the VR headsets which help in flexible and interactive movement along with creating 5 basic feelings.
Sony, Nintendo, and Microsoft are expected to reduce the prices for their game products in the coming years.
VR In Gaming
The VR head-mounted displays were initially created focusing on games mainly. But later on, their presence has been felt in diverse businesses across industries all over the world. VR for gamers has expanded the edges of the world, thereby creating an option for a three-dimensional gaming ambiance. Virtual reality games introduced the following to enhance the gaming experience.
Interactive Playing
With VR games, the players can actually feel interacting with the environment. The dense graphics and 360-degree video content help in creating an immersive presence to boost the adrenaline rush.
Innovative and Interactive Levels
Using the controllers in the virtual reality surroundings, the players can control and modify the game environment any way they like.
Content
Thanks to VR technology gaming content can be more immersive. Gaming genres like shooters, simulations or adventure got an enhanced look and feel owing to the impact of VR. This also contributed to making the role of a protagonist largely prominent.
Five Senses Of VR Gaming
Listed below are 5 distinctive senses which distinguish VR gaming from its competitors.
While making games, the VR game development companies take into consideration the following aspects so that games can be more innovative and dynamic for gaming enthusiasts.
Visual
Visual impressions are the most vital ones when it comes to games and entertainment. With VR gaming, the players can interact with immersive visual elements which enable them to enjoy their gaming sessions. Creating a gaming environment virtually with interactive components of the real world adds an element of attraction for the gamers. The unique user experience of the graphics and animation make VR games highly popular and successful.
Sound
This is another vital sense which can ignite the feeling of the players with respect to the game genres. For example, if you are playing any horror games, related sounds can turn your dreams into reality. Also, it encourages the players to explore the games till the last, as the sound effects enhance the compelling storyline.
Tactile Feedback
With VR games, the tactile feedback can generate a customized experience to play games for a repeated session. For instance, while playing an action game if you press a button it will give you the impression that bullets are coming out from a rifle. It really creates an intense feeling in successfully accomplishing the game targets so that the desired goals can be met. As a result of this, VR games are capable of creating dynamic and fascinating content.
Smell
This is another vital sense for humans. For gamers also, this sense can be aptly developed using VR technology. Thanks to some companies that develop scent devices for virtual reality, the players of VR action games can for example smell gunpowder which makes the playing highly immersive.
Taste
Since according to research, 80% of the flavors we taste actually come from what we smell, taste is also possible in vitual reality. Thanks to the same devices mentioned above, tasting for example coffee during a virtual reality experience is already possible. There are also some other types of devices for emulating taste in the works that might find their role in VR in the future.
Kinds Of Virtual Reality Games
With this immersive technology you can play and enjoy diverse games belonging to multiple genres. This will not only attract an increasing number of gamers but also can retain them for repeated playing sessions through interactive controls and navigation.
First-Person VR Shooter Games
Among the various genres of VR games, first-person shooter games are the most popular ones. With proper visual and audio support, the players can feel their presence on the battlefield interacting with explosions and flying bullets.
Virtual Reality Racing Games
With respect to VR racing games, the players can experience ample flexibilities in movements. Moreover, they can also expect tactile experiences like the interior of the car which is definitely an added advantage.
Horror Games in VR
There is a strong market for the genre of horror games. Now with VR, the graphics of this genre can be more realistic offering a 360-degree view, first-person perspective, haptic feedback, object-based audio, etc. All these clubbed together, you can really enjoy the creepy feeling to the fullest with VR-based horror games.
Gambling and VR Casinos
There was never a dearth of gamers for online gambling and virtual reality will increase it more. Players who love gambling will have vast assortments offered by VR casinos which include poker, immersive roulette, slot machines, and other card games. Also, with VR casinos there is more social interaction among players.
VR Will Continue to Shape the Future of Gaming
With VR you can not only create diverse games belonging to multiple genres but can also make each game interactive so that the players can experience their presence in the gaming environment. The impact of VR technology in today's gaming will continue to increase as devices are getting cost-effective to serve the masses and the leading producers of VR devices are also working to make virtual reality more innovative.
Guest Post
---
About the Guest Author(s)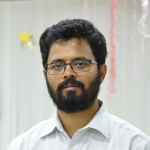 Arup Roy is the CEO of Red Apple Technologies, a popular VR game development company working with global companies. He understands the VR prospects and hence tries to utilize it appropriately so that the worldwide gamers can be served with utmost ease and efficiency. Being a tech-enthusiast he loves to read and write a lot about the trending technologies to help aspiring game developers enhance their core competencies.