The VR/AR Association held its second virtual VR/AR Global Summit last week, concluding Friday afternoon. The first such event took place in June and attracted over 10,000 registrants. This second virtual VR/AR Global Summit attracted thousands of XR technology enthusiasts as well, according to the VR/AR Association.
The June event was buggered by technical difficulties and – while the same platform was used – this go around went more smoothly. The three-day event featured over 150 talks and sessions given by hundreds of XR technology experts and professionals.
While complete coverage of this VR/AR Global Summit would be impossible, there were a couple of trending themes and major announcements from the event.
VR/AR Global Summit News and Announcements
While much of the VR/AR summits are intellectual discussions, XR technology manufacturers and developers also use the event to make announcements and launch products. At this VR/AR Global Summit, we heard from HP, Felix & Paul Studios, and a little from Lenovo Think Reality.
HP Announces Reverb G2 Omnicept
One of the major events of the June summit was the announcement of the HP Reverb G2 headset. HP returned to the Autumn summit to launch Omnicept.
Omnicept is a comprehensive solution consisting of an upgraded edition of the Reverb G2, an AI-enabled platform for interpreting sense information on the user, and "user-centric adaptive experiences."
"[Omnicept] is the rise of the rise of the Cyber-Physical Age," HP Chief Engineer Chandrakant Patel said in a video introducing the Omnicept. "HP's Omnicept Platform is setting the course for the integrated system."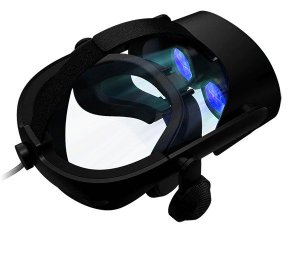 HP Product Manager Brianna Havlik called the headset "the world's smartest headset," introducing its ability to perform foveated rendering, and monitor gaze and pupil size, heart rate, and facial expressions. There's also an Omnicept SDK allowing developers to get the most out of the tools involved.
New Experiences From Felix & Paul Studios
Paul Raphaël and Pierre Blaizeau of award-winning immersive production studio Felix & Paul Studios took part in a discussion on cross-platform immersive media. The talk included discussions on their ongoing project Space Explorers and their contribution to The Storyteller universe with The Jim Henson Company.
Space Explorers is a six-part series created with NASA. Two episodes were shot on earth and six are being shot or will be shot on the International Space Station. Early showings premiered at Sundance Film Festival but the first episodes are about to become available to the public.
"The first episode is coming out in a couple of weeks, and then one every quarter, so it's about a one-year rollout," said Raphaël.
While the studio's collaboration with The Jim Henson Company had initially been announced this summer, Raphaël revealed at the VR/AR Global Summit that the experience will use a physical book target.
"We wanted to create a seamless experience and once the app is running (…) it's completely stripped of any AI and once the book is open it behaves just like you would imagine," said Raphaël.
A version will also be created that uses more sophisticated hand tracking and gesture controls rather than a physical book.
A Watch Call From Lenovo
While he stopped short of a full announcement, Lenovo's AR/VR Lead Nathan Pettyjohn teased at some exciting developments in a "fireside chat" Scaling Enterprise AR and VR Solutions.
"There's more to come in terms of partnerships and even hardware that people should look out for," said Pettyjohn. "We're excited to be implementing strategies that will make devices faster and easier to employ."
Major Trends
Some of the major trends at the  VR/AR Global Summit are major trends any time XR technology enthusiasts get together. A number of the trends came up as a result of the ongoing coronavirus, which initially forced the summit online earlier this year.
XR Technology in the Time of Coronavirus
While much of the talk on how XR technology has impacted the coronavirus revolved around increased use, Nokia's Head of Ecosystem and Trend Scouting Leslie Shannon pointed to more top-down changes.
"Governments are realizing where the holes in the network actually are," Shannon said in her talk The Year the Earth Stood Still. "We're really seeing impetus coming to get the world not just wired but super-wired and that's really going to be good because this is the background for [XR technology]."
XR for Remote Collaboration and Education
Remote collaboration was one of the major use cases for XR technology before coronavirus, and it's only become a more apparent story since. Many speakers were careful to balance respect for the situation with optimism for its impact on the industry.
"We've always had the technology to work remotely, but we didn't do it because we were comfortable in our routines," XR technology consultant Catherine Henry said in a talk titled A World Made More Perfect. "It took a kind of catalyst like [coronavirus] to disrupt those routines."
A similar statement regarding XR technology adoption in education was discussed in the Immersive Learning Explosion panel discussion.
"We see a lot of resistance from professors to adhere to this system because they already have their syllabi (…) but COVID is forcing everyone into these virtual environments," said IE Business School's Tech Lab Head Chelu Martin.
Advances in design as a part of remote collaboration were also discussed by Unity's Enterprise Solutions Executive Elizabeth Baron in her talk The New Golden Age of Insight. Baron compared the move from 2D to XR technology-enabled modeling with the move from vellum to CAD software.
"I believe we are embarking on a renaissance – a new age where you can work with technology naturally," said Baron. "The value of holistic interaction improves the way product creation is conducted."
XR and the "New Normal"
"It hasn't been easy, but we're all getting to a place where we're learning to be actually productive in remote work," said EndeavorVR founder and CEO Amy Peck. "The work-life balance has actually shifted toward more of a lifestyle decision."
Peck asserted this position in her talk Live Anywhere, Live Everywhere: Small Towns, Digital Nomads, and the History of Virtual Presence. While the idea of the "digital nomad" isn't necessarily new, it may be becoming more common and more nuanced with advancements in XR technology. Peck and others suggested that this isn't a switch that will be reversed.
The trend doesn't only extend to work. Peck's talk also addressed Facebook Horizon as an example of "entertainment and social media colliding." This led to conversations in the live chat regarding Horizon as a "walled garden" but the use case is there.
In The Year the Earth Stood Still, Shannon pointed to a more accessible social experience, namely the Burning Man events that took place in AltSpaceVR this year.
"This is really the beginning of us understanding how virtual worlds have meaning," said Shannon. "It's no longer going to be that people think that something has to happen in the real world to have value."
More on Walled Gardens
Facebook didn't have any announcements of their own, having just had Connect just a few weeks earlier, but the Oculus owners could have been a subtopic to themselves.
"It's very difficult to import and export information and, unless we have open webVR, it's going to be very difficult to do that," Henry said in A World Made More Perfect.
The walled garden discussion also took place with a focus on equity for content creators in The State of XR: Whose Metaverse Is This Anyway? panel discussion.
"There are comparisons to be made in television and early media," said Playable Agency co-founder and CEO Evo Heyning. "You often saw some of our favorite creatives making many many pieces and not necessarily seeing the value for that."
Following the VR/AR Association
While I couldn't cover everything in real-time, you can watch just about everything when it is posted to the VR/AR Association's YouTube channel over the course of the next few days.